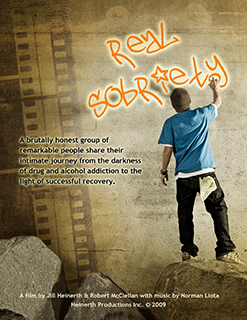 You can watch the iconic addiction recovery film Real Sobriety streaming here.
https://vimeo.com/ondemand/realsobriety/145227983
You can purchase a DVD on Amazon here.
https://www.amazon.com/Real-Sobriety-Kristen-Cary/dp/B002J9F9GA?crid=368HUU50JRKK5&keywords=real+sobriety+dvd&qid=1575999199&sprefix=real+sobriety%2Caps%2C315&sr=8-1&linkCode=ll1&tag=maca06-20&linkId=3aed3fcf797b45466bd4e9c7a920fcbf&language=en_US&ref_=as_li_ss_tl
Editorial Reviews
- Real Sobriety is for that alcoholic or addict who is white knuckling it, rocking in thier seat, and sweating through their bed sheets with the anxiety of a new day in recovery. It features real people sharing remarkable stories of what it used to be like when they were out there, and what life is like today, clean, sober, productive and happy. And these are people you will relate to: sober bikers, prison chaplain, coffee shop manager, nurse, military veterans, waitresses, even a sober doctor; men and women who have walked the walk, and now, in Real Sobriety, they talk the talk.
- Thank you for the preview Saturday!! I really enjoyed it!! I hope this film documentary helps those that share the nightmare of an addiction understand there can be a life of love, peace, harmony, happiness, health and spirituality on the recovery road. I hope your film is blessed to reach an overwhelming audience and help hundreds, if not thousands. David C. --Alt M/C

- Watched Real Sobriety with a group of women. It was awesome! Amazing how every single woman in the room has been touched by addiction in some way. This film touched our hearts and gave us hope! Thank you Robert and Jill. S.C. --Goddess Film Circle
About the Director
An award-winning underwater adventure filmmaker, Jill wrote, produced, and appeared a number of PBS, Discovery Channel, and National Geographic documentaries, taking viewers on travels through the worlds greatest water systems. Hollywood directors call on her to produce difficult underwater scenes and international magazines and websites look to Jill to document extreme environments with high technology. With Robert McClellan, Jill takes on her first topside film project with Real Sobriety. She does, however, manage to shoot and edit in some original underwater footage!